Ceramic figures at Christmas
Who doesn't know them: the little ceramic figures that are conjured up from the depths of cellar cupboards at Christmas time? From one day to the next, the living room table is reserved for the Christmas story en miniature. Not only Joseph, Mary and the Christ Child cavort there, but also the ox and donkey, the shepherds with their flock, the angels and the three kings.
In the past, they were brought out every year at home
I am one of the lucky children who grew up with such a manger. Year after year, my mother freed them from a large box in which the figures were kept, wrapped in protective newspaper. They were lovingly and carefully unpacked and arranged on the table, on a pretty cloth, so that the little scene was beautiful to look at and made sense.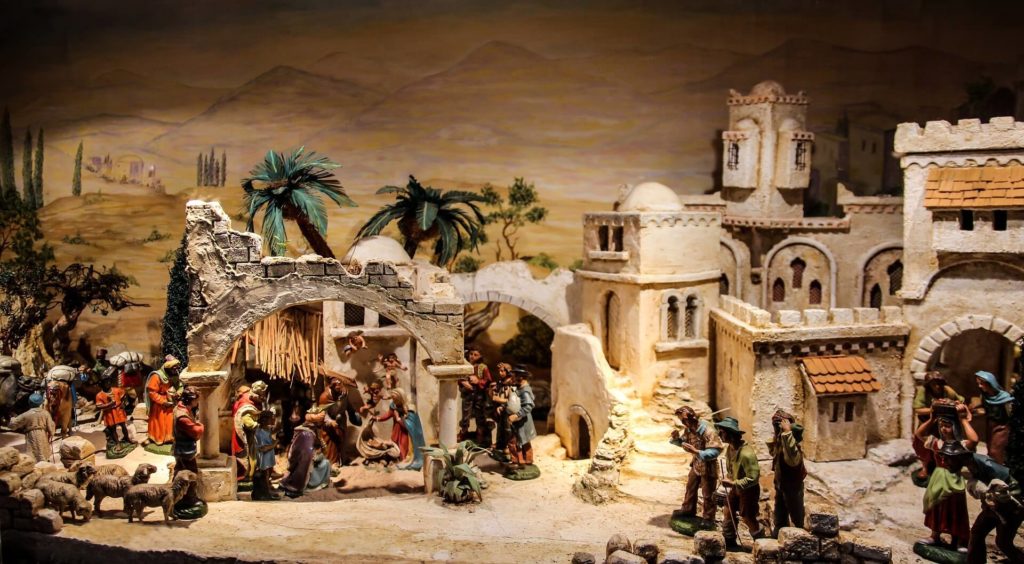 Setting up is not easy
If I was lucky and had been good (which was rarely the case), I was allowed to help. It wasn't easy at all, because there were also many figures whose history I didn't know or was a little unclear about. One of them, for example, was a small fountain. Of course, I placed the woman with the headscarf in the flowing dress next to it, holding a bucket-like vessel in one hand. And because plants grow where there is water, the palm tree, which I particularly loved, was placed right next to it.
The figures tell stories
And while I shifted the mini-protagonists back and forth in a virtuoso manner, constantly upsetting my mother's order, I observed with fascination how new connections formed as a result and my imagination couldn't get out of routing. If I had been able to write at that time, a small book would have been written for each Figut.
The untouchable centre of the scene
But the centre of the arrangement, once it had found its place, remained untouched by me. Because Joseph and Mary had to stand to the left and right of the Christ Child, there was nothing to shake. The angel behind them, with his impressively spread wings, also had his fixed place. Ox and donkey flanked the holy couple or stood together at one side. And the three kings had to stand behind each other on the other side. Around them were the shepherds with their sheep. Almost like a buffer zone separating the inviolable centre from the profane rest.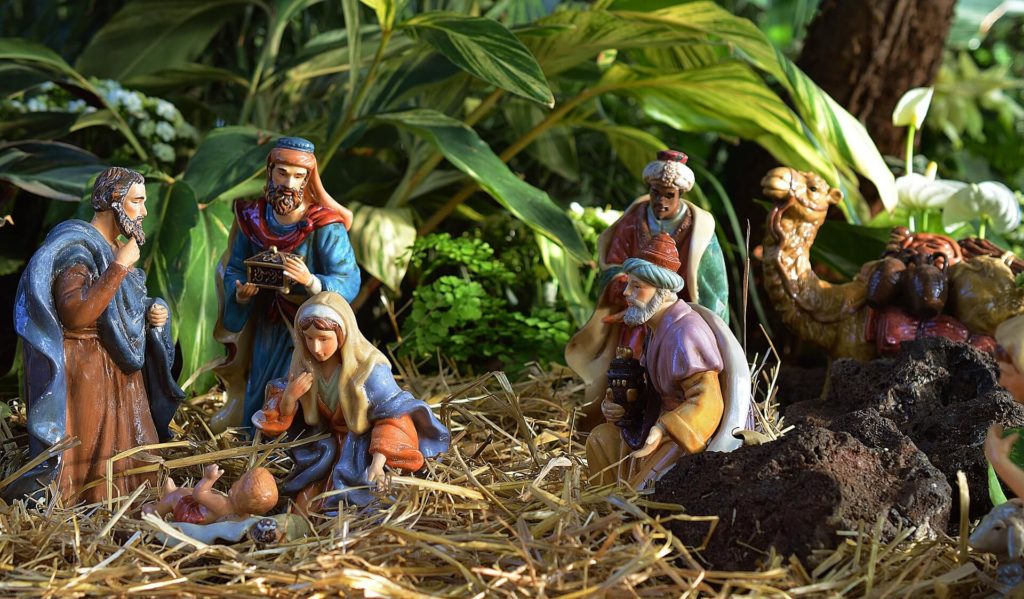 They are called "santons"
Today I know that the figures are so-called "santons" from Provence. The name comes from the Provençal language and means "little saints". Since 1803, a market has been held in Marseille's old harbour every year from mid-November to the end of January, where more than 30 so-called santonniers offer their wonderful figures for sale. And indeed, each character is linked to its very own story, just as I had imagined as a child. I found a nice page about it on the internet:
— website about Santon characters
And, of course, Auntie Wiki has something to say on the subject too:
Lanzarote: Christmas cots in the market places
How amazed I was when I spent the Christmas season on Lanzarote for the first time and, to my great delight, found a ceramic nativity scene in the marketplace of almost every village. The figures there are of course not as small as our living room version, but about 2-3 fists high, but they really do resemble my beloved Santons. They are usually on a slightly elevated square and are slightly fenced off so that the scene is protected but you can see everything well.
Design of the scene
The accompanying landscape is especially lovingly designed. The figures are not simply standing on a flat surface, but hills and rocks are artfully recreated. Bushes and trees are either also made of clay or they are actually represented by small plants.
Nativity competition
The villages on the island try to outdo each other with their representations and each year their artwork looks slightly different. There is often actually a competition and sometimes even special shuttle buses go from place to place so that you can compare the nativity scenes better. Even though I find the hype in this context a bit strange and actually inappropriate, the nativity scenes are really charming in and of themselves.
If you want to learn more about the Christmas and New Year traditions on Lanzarote, check out this page: 
Christmas carvings in the Alps
The figures in the Alpine region look completely different. In the past, they were carved out of wood in all sizes, some so small that they fit into a matchbox, others even life-size. You can still find shops with all kinds of carvings in most tourist towns, from December onwards of course mainly related to the Christmas story, i.e. nativity scenes and angels.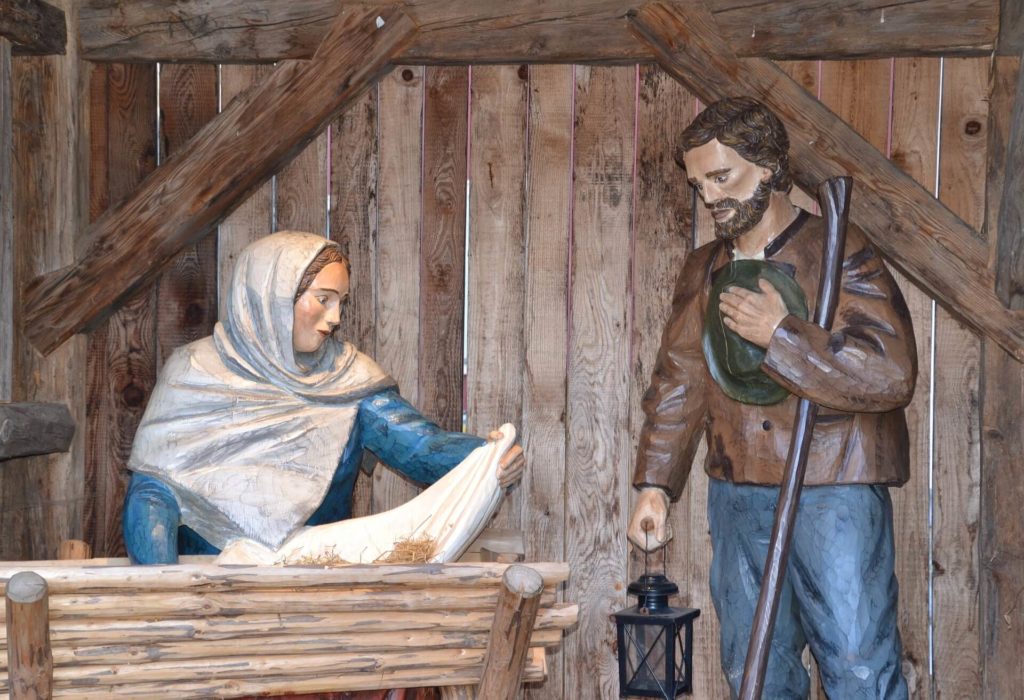 Apparent extinction of tradition
Unfortunately, there are hardly any craftsmen left who actually carve by hand, at most for private use. The figures in the shops are almost without exception machine-made, some are even imported. Even if they still look very pretty, it makes me very sad to see how an old craft seems to be slowly dying out. But only seemingly, because fortunately there are always people who keep this old tradition alive, who enjoy carving and don't let it stop them, even if it's no longer possible to make a living from it today.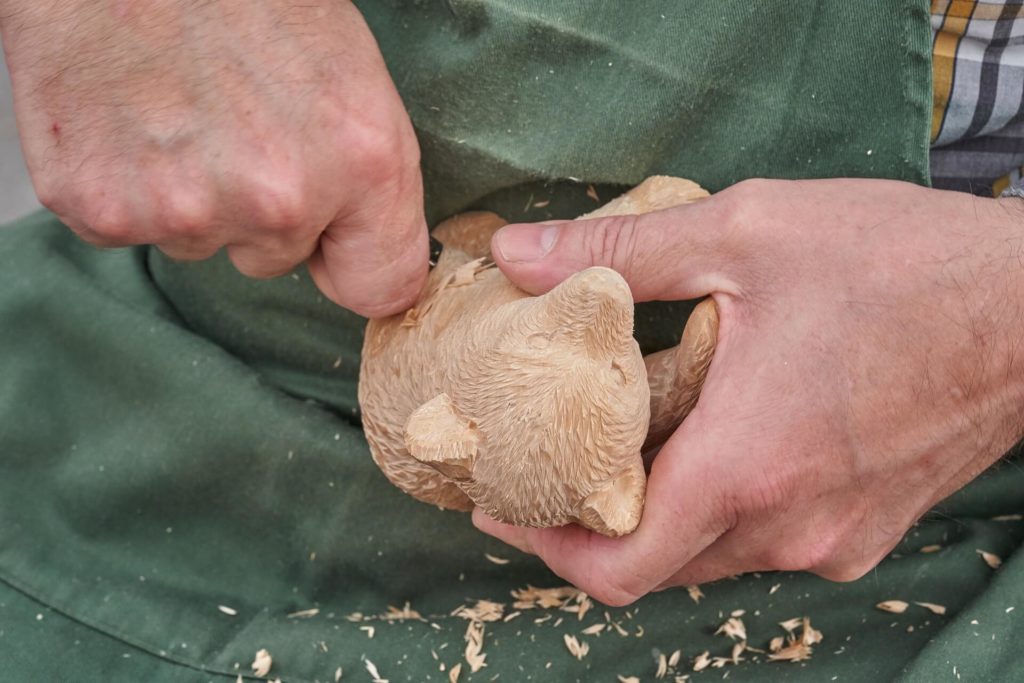 My father's version made of a salad bowl
Finally, I would like to present a very simple but very special nativity scene that my father made for my grandmother. It consists of four glass salad bowls that can be placed inside each other. He placed them on the table with the opening facing downwards, like transparent hills. On the smallest one he painted the baby Jesus in the manger with transparent glass paint. Then he put the next largest bowl on top and painted Mary and Joseph on it. On the third bowl – above the other two – came the ox and donkey. And on the last layer the three kings, a palm tree and the star.
The special effect of transparency
Because the colours are transparent and the bowls are on top of each other, the depictions blend in a very special way. It looks particularly mysterious when there are candles behind them. Then the pictures seem to move in front of the flickering light and come to life.
We also know this effect from the old church windows, which seem to awaken especially in the light of the setting sun.  And since I unfortunately don't have a photo of the salad bowls, I'll conclude this article with a picture of a particularly beautiful window.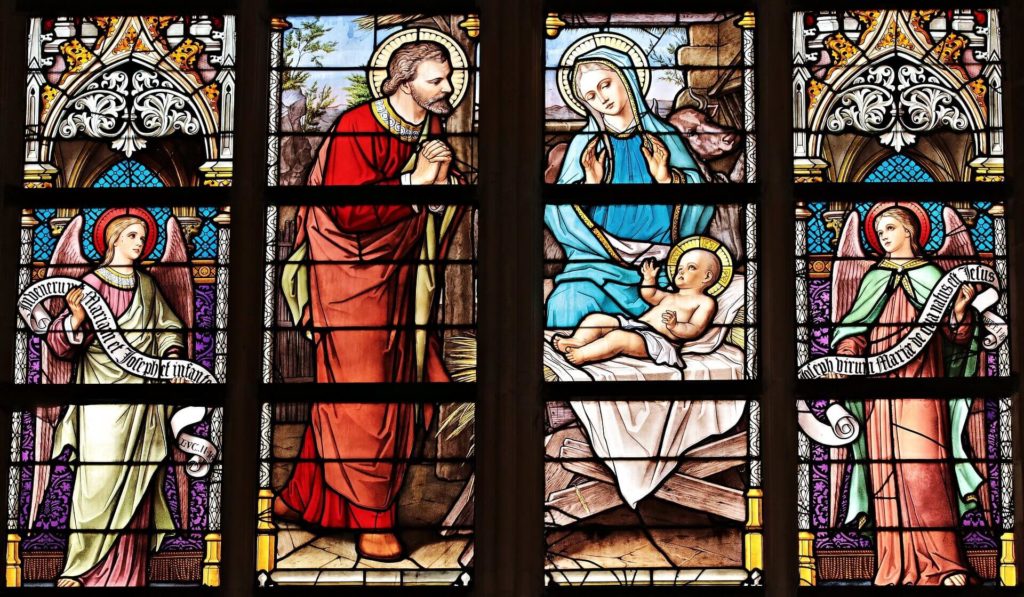 I wish you reflective holidays
with warm looks back,
curious looking forward
and enjoyable here and now
You like my blog and would like to support me?