My heart belongs to yodelling. And since I am a street musician, I stand here and there on the side of a hiking trail in summer and perform my yodelling songs. What many people don't know: I'm not a Tyrolean, no, I come from Hessenland, from Kassel. And as far as I know, people don't yodel too much there. But I have always felt as if I had grown up in the Alps. My grandparents and my nanny Lisa brought that about, perhaps without knowing it. They also supported and allowed my love for music and singing to grow and thus set the course for my musical career a long time ago. I will tell you about those beginnings here……
In the 1950s, my grandfather bought a small flat in a large hotel on the Seiser Alm in South Tyrol. It was quite cheap for that time, because the hotel was still partly under construction. Since my grandmother had fallen in love with this wonderful mountain world during her holidays, he wanted to make her happy. He succeeded brilliantly. From then on, the two of them spent a lot of time on the Alpe di Siusi every year and my mother also went there regularly for her holidays.
So it came about that I practically had a second home in the mountains right from birth. I know every little stream there and every hidden clearing in the forest, as a child I looked for my Easter eggs under the fir trees and among the alpine roses in spring and later in winter I went ski racing with the local youngsters. And of course I listened to the typical folk music in the huts along the way. All this was never exotic for me. It had something natural about it, was a part of me.
By the way, I can't remember ever hearing a yodel on a mountain pasture. I probably came into contact with it more in Kassel through my nanny Lisa. She came from a small, quaint village near Kassel and was often brought to us by my mother as a household help or to look after us children when my parents wanted to go out. Lisa had the habit of chopping the vegetables for the next day in front of the TV in the evening. Her favourite shows were "Blauer Bock" and "Krug zum Grünen Kranze". So I was regularly exposed to folk music and yodelling fascinated me from the very beginning. It always had something cheeky for me, a feeling of an exuberant thirst for freedom. Strangely enough, I never had the idea of trying it out myself. Somehow it seemed to be reserved for people born in the mountains. I can still remember the lyrics of a song from that time: "You can't learn to yodel. You either have it or you don't." For me, that meant: you don't even have to try. If you don't come from the mountain pasture, you'll never learn. Strangely enough, it never occurred to me to doubt this dogma and so (to the delight of my parents) I kept my hands off yodelling.
But I did sing. Lisa had a beautiful, clear and gentle voice. Every evening she sang us to sleep. My favourite was the lullaby "Sleep my little mouse".
But it is by no means the case that I grew up mainly with folk music. On the contrary. My grandparents introduced me to classical music. My grandmother played the piano and accordion and my grandfather the violin. I went to piano lessons in my youth and played Mozart and Chopin. My parents influenced me through the records they put on from time to time. From my mother I remember the musical "Hair" and Liza Minelli, from my father I rather heard Louis Armstrong and Ella Fizgerald. And so it's not surprising that yodelling never really came to the fore for a long time.
When the nanny days were over, Lisa was no longer staying with us and therefore there was no longer a "Blauer Bock" on the TV, I hardly came into contact with folk music, at most once on a holiday on the Alpe di Siusi. And it was only many, many years later that I was suddenly overcome by an irresistible urge to learn how to yodel. I have no idea how and why the belief that I, as a non-Alpine, could not learn to yodel, dissolved. Maybe it was because I was a jazz singer at the time and experimented a lot with my voice. In jazz, any musical form of expression can be integrated, and somehow I came across yodelling again while playing around and improvising. Especially since yodelling is for me an expression of freedom, longing and love of life and I also look for these values in jazz.
Be that as it may: I began to occupy myself with yodelling and painstakingly taught myself step by step. Fortunately, there was now the internet and a few instructions were found on Youtube. Surprisingly, almost all of them came from the U.S.A. And so I learned that there is a cowboy yodelling tradition. Probably they were able to communicate over long distances by yodelling, and they also passed their boredom in the evenings around the campfire with yodelling songs.
My first attempts at yodelling sounded pretty awful, but that couldn't stop me from continuing to work on it. Because it's much easier to do it loudly than quietly, and also to train my voice, I regularly rode my bike to a remote railway track.  There I waited for passing trains to yodel as loudly as I could in the thunderous din. Yes, and little by little I got better and better. At least that's what I thought.  🙂
One or two years before I discovered yodelling, my grandmother died and I took her accordion. I started practising eagerly and even went to the conservatory regularly to learn it better. And because I enjoyed it so much, I worked out a musical programme for children and adults with which I soon performed on several stages in Halle and the surrounding area, where I was living at the time. The programme was called "Hänschen Klein goes Jazz" and was an attempt to combine children's songs and jazz in order to bring jazz closer to children in concert and also to offer something to the accompanying parents.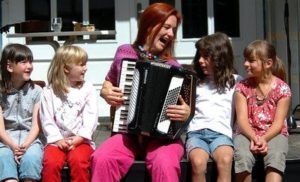 I even released a CD with children's songs. Here is a little sample for you. from a live concert recording. The first verse of my self-written Sleeping Beauty song:
At some point during this time I discovered yodelling for myself and learned one Tyrolean song after another. And one day when I looked in the big mirror in my practice room I suddenly had the feeling that something was wrong, that something was missing. Of course: I needed a dirndl! So I bought five of them on ebay. But because they all looked terrible on me, I quickly put them back on ebay and sold them on. Then I bought new ones again. And so on. Until I finally had an outfit that I liked and felt comfortable in, including thick woollen socks and rough hiking boots. So I happily stood in front of my mirror and continued to practise my Tyrolean songs. Thinking-Feeling-Doing.
Here is the first verse of "Appenzeller", recorded in Halle 2019, with Peter Häseler on bass:
But it didn't take very long and the same feeling came over me again. I was dissatisfied, even though the music was getting better and better out of my hand and I felt that I was appropriately dressed. In fact, it took me quite a long time to realise that the environment was not right. It took me a few daredevil joldel attempts in the forest or on the beach of the Saale to admit to myself that I was missing the mountains to make the whole thing feel round. And so the idea slowly matured to go to my beloved Alpe di Siusi and yodel by the wayside. And so that I wouldn't be declared crazy and the action would somehow have a meaningful touch, I wanted to put a small basket next to me, like street musicians tend to do. As expected, all my friends and family tried to talk me out of it: I would embarrass myself, the locals could yodel much better than I could, and so on. They were right, of course. But what did I have to lose? It could only get better with time. Practice makes perfect. And true to my favourite motto, "I'll just pretend I can", I actually put the exciting plan into action in 2012. Thinking-Feeling-Doing.
I have to admit: The first day on the mountain pasture, the first song….. oh, I was damn nervous.But by the second song I felt as if I had been standing there my whole life and yodelling my heart out. Little by little, the listeners improved my pronunciation, because the dialect wasn't easy for me at first. I'm used to pretty pure High German.
By the way, my dog Mio was and is always by my side. Here you can see and hear us yodelling together on the Seiser Alm: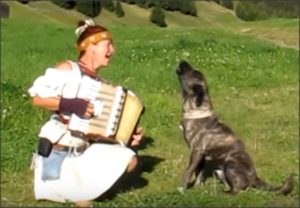 Youtube-link: Mio, singing with me
At some point I was asked if I could also sing Ladin songs. I was overjoyed when Otto Thaler and Leo…….. taught me the first ones a little later. The Ladin culture, which can only be found in a few valleys, is something very special and my heart swells when I hear their language. Ladin is still spoken in the Val Gardena and partly also on the Alpe di Siusi.  I'll probably write a special article soon just about Ladin.  Here is a foretaste, the second verse of "ben danter":
I sang this beautiful song myself. It is about a star that can no longer be seen, in a figurative sense about a lost love.
So now you know how I got into yodelling. If you're ever drawn to the Alpe di Siusi in summer, then you should definitely hike the Puflatsch circuit. It is really impressive and beautiful. And who knows, maybe you'll hear a happy yodel as you come down and see me standing there at the edge of the path.
With a thousand flowers in my hair…..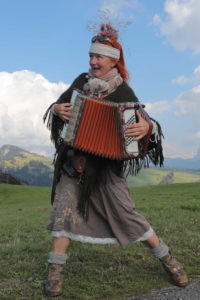 You like my blog and would like to support me?